If I were to answer this question, I know immediately what I would say, "It holds my interest." If I were to delve a little further to determine why it holds my interest, I think the answer I may come up with is the character/characters. It's like remembering your favorite movie. What made you like it, tell others about it, want to see it again? The character/s captivated you.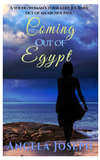 Character – And so it is with any book I read. I want a protagonist who is relatable, interesting, and likeable. This does not mean you will like everything your character does, however, you may find the character's actions justifiable. Which brings me to another point.
Motive – A character's motive in the story should be tied in with either her intrinsic (internal) or extrinsic (external) needs. For example in my first novel Coming Out of Egypt, Marva the protagonist kills her father just before the story begins. What could be her motive for carrying out such a heinous act? Readers later discover that the killing was accidental and occurred during the process of Marva trying to rescue June her younger sister from their father's abuse (external). Her internal needs were always to escape his abuse and forge a new life for herself and June. This brings me to the next important element:
Plot – This action on Marva's part sets the plot into motion. Everything that follows is as a result of that first spur-of-the-moment decision. By this time the reader is either rooting for Marva, turning the pages to see what happens next, or she has tossed the book aside, thinking it a waste of time. I am happy to report that Coming Out of Egypt has not had one negative review. Everyone has had only positive things to say about her and about the book in general.
Marva is the star of the show. The other characters follow her lead, either to support her or to attempt to throw her into prison. Like Elizabeth Bennett (Pride and Prejudice), Katniss (The Hunger Games), and Jane Eyre, Marva captures the image of a young woman willing to take risks and stand up for what she believes in.
If you have not yet read Coming Out of Egypt, you should do so now, while the price is just .99c. And while you are at it, why not get the other two books in the series, In the Wilderness and In the Promised Land.
You can follow me on Facebook Instagram Twitter
Leave a Comment »
Comments
Leave a Reply