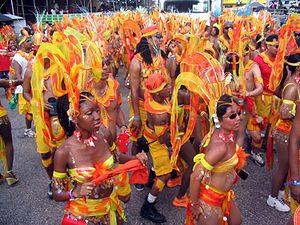 I wonder how many authors after writing – and publishing – their first book wish they had chosen a different title. I also sometimes wonder if my marketing – and consequently – sales would not have been much better. Of course, with modern technology one can always change title and cover if one so chooses, but that is not my intent. I gave a lot of thought to my title Coming Out of Egypt and my writing partners understood and approved of my decision.
So how did that ambiguous title originate? The tagline – a young woman's journey out of an abusive childhood – explains the essence of the book, which is based on the Biblical account of the Israelites' Exodus out of Egypt, a place of bondage. Marva, the protagonist of Coming Out of Egypt, and her sister June have been in bondage as a result of being sexually abused by their father for a number of years. But that's not the only comparison. Like the Israelites, Marva and June literally leave Egypt Village, Trinidad in search of a better life. But this doesn't come until much later.
And this brings me to the setting. For those of you who don't know, Trinidad is the larger of the twin-island nation, Trinidad and Tobago. Trinidad is famous for its Carnival or mardi gras, as it's known here in the US. Carnival begins three days from now on Feb. 27 and 28 and is dubbed The Greatest Show On Earth. You can learn more about Trinidad Carnival here.
Other facts about Trinidad: It is the most southerly of the West Indian islands and lies at the north eastern tip of Venezuela. Trinidad is rich in petroleum, natural gas and asphalt. It is the third richest country by GDP (gross domestic product) in the Americas after the United States and Canada. It is also the home of calypso, steelband, limbo and other musical art forms. Trinidad has given birth to Nobel prize-winning author Vidia Naipaul and many famous singers and actors, including Tatyana Ali (Ashley) and Alfonso Ribeiro (Carlton) of Fresh Prince. This small Caribbean gem is also the home of two Miss Universe winners, one of whom, Janelle Penny Commissiong, is the first black woman to hold the title, and one Miss World. Whew! And did I mention, Trinidad is also the birth place of this author, Angela Joseph?
So there you have it, ladies and gentlemen, the background of this compelling novel by a new author who will soon make her mark on the world stage. Get your copy now and learn more about this amazing and relatively little-known country. And if you enjoyed this post, please subscribe to my newsletter to learn about special offers and giveaways.
Leave a Comment »
Comments
Leave a Reply