Upmarket Commercial/Women's Fiction
Date Published:
January 3, 2019
Publisher: Acorn Publishing LLC
Let pilot Tris Miles lift you up, and fly you to new heights with her inspiring story of love, ambition and the meaning of success.
R. D. Kardon's debut novel puts you in the cockpit with Tris Miles as she navigates the challenges of integrating an all-male corporate flight department in 1997. Tris encounters harassment, marginalization, and backstabbing on her journey to becoming a jet captain.
____________________________
It's 1997. Women stand beside men in combat and fly fighter jets. Pilot Tris Miles is not content with her job as a First Officer for tiny Clear Sky Airlines. She wants to be a Captain—the only way she knows to prove her worth as a pilot and atone for a deadly mistake.
To further her career, Tris accepts a prestigious job with Tetrix, Inc. But her dream of becoming pilot-in-command twists into a nightmare.
As the company's first woman pilot, she encounters resistance, marginalization, and harassment on a daily basis. Fortunately, Tris has one thing her co-workers can't deny—skill.
When Tris finds herself in a crippled airplane thousands of miles from home she must prove she can lead. With her career on the line, can Tris earn the respect she's been craving? And if this is the end, can she find the strength to forgive herself?
About the Author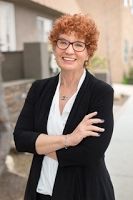 Robin "R.D." Kardon was a litigation attorney before beginning a twelve-year flying career as a corporate and airline pilot. She holds an Airline Transport Pilot certificate and three Captain qualifications. Her travels took her all over the world in every type of airplane from small single-engine Cessnas to the Boeing 737. Robin earned her B.A. in Journalism and Sociology from NYU and J.D. from American University, Washington College of Law. A native New Yorker, Robin now lives in San Diego, California with her beloved rescue pets. , a work of fiction inspired by her own aviation experience, is her first novel.
EXCERPT 1
TRIS LOST ALL visibility as the airplane pierced a thick slab of fog. She slid her focus from the miasma outside the cockpit window to the flight instruments in front of her. They were her eyesight now. She trusted them. They told the truth.
She scanned the gauges and smiled. Tris heard their silent language; woman and machine entwined in the exceptional conversation of flight.
"Clear Sky Two-Five-One, cleared for the approach," the Columbus, Ohio approach controller announced over a scratchy connection. Tris nodded to Captain Danny Terry, sitting two feet away in the left seat. His jaw clenched as he worked the radios on their last flight of the day.
"Gear down," Tris commanded.
The landing gear groaned and clicked as they lowered into position. Locked on final approach, the turboprop glided toward the runway, a concrete slab somewhere below them. Its twin engines spun in sync on the airplane's wings. Tris monitored every bump and twitch of the plane. She answered each with a tap of the controls.
Flying is a series of small corrections Tris nudged the yoke to bank the airplane left, the plastic coated steering column cool beneath her hands. She thought of all the ways pilots measure movement: degrees of heading, feet of altitude, ticks of the clock. Always counting up, down, until the next critical moment. As Clear Sky 251 slid toward the ground, Tris counted down.
Then she saw the flash. Just for a second, an amber warning light flickered.
"Danny, check the gauges. We had a caution."
"Five hundred," the airplane's synthesized altitude alert announced. Tris checked the altimeter. So close to the ground and they still had zero visibility through the late-summer glare.
"I don't know," Danny said as he scanned the gauges. "Wait. It's the oil pressure on number one. The needle's going crazy. It could be nothing, just a blip."
Or the number one engine could be about to fail.
"Ok." She'd need full power on both engines to climb if they couldn't land—and she might not have it.
"Nothing in sight." Danny squirmed forward in his seat to catch the first glimpse of runway lights. His breath grew more labored with every foot of altitude they lost. He wouldn't see the runway until the very last second, if at all—right when Tris would decide to land the plane or thrust it back up into the soup.
"Roger." Tris stayed focused and in control. As seconds passed, the plane slid lower, lower, in a stable descent. The only sounds were the whir of spinning dials, the click of needles, the white noise of flight. Tris eyed the altimeter, her hands soft but firm on the power levers.
Danny's hand twitched behind hers; a backup. He strained to see the runway. Decision time loomed a few feet away.
The caution light blinked again. Tris had to keep her eyes on the navigation gauges. The closer the airplane got to the ground, the more sensitive those indicators became. If she strayed off course, even a little, she'd lose all guidance and have to climb, or else there was no telling where they'd hit the ground.
She felt Danny's hands move closer to the controls, protecting them in case she faltered.
She didn't. Tris saw the runway, dead ahead.
"I've got it," Danny said quickly as he
keyed the mike. "Columbus Tower, Clear Sky
Two-Five-One, runway in sight."
"Roger, Clear Sky Two-Five-One, Runway Two-Four, cleared to land, wind two-five-zero at three knots."
"Landing," Tris said. She looked outside, blinked to focus, and kept the plane moving straight along the runway centerline, edging toward the earth. The altimeter registered field elevation just as the plane's rear wheels softly touched the ground.
Leave a Comment »
Comments
2 Responses to "Virtual Book Tour – Flygirl"
RABT BOOK TOURS AND PR Says:
January 26th, 2019 at 11:07 am

Thanks for hosting!

Anita Says:
January 31st, 2019 at 9:05 pm

I love a story about a hard charging persevering woman who attains her goals. This is an inspiring story and I think many women of all ages can find encouragement. Thanks for sharing.
Leave a Reply