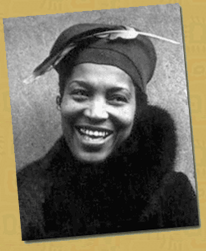 Zora Neale Hurston may best be remembered for her novel Their Eyes Were Watching God (1937), which was produced by Oprah and aired on television a few years ago. Other works by Ms. Hurston include Tell My Horse (1938) a travelogue and study of Caribbean voodoo, Moses, Man of The Mountains (1939) her autobiography Dust Tracks On The Road (1942) and Seraph On The Suwanee (1948). Of these, Their Eyes Were Watching God received the greatest recognition.
Zora's early upbringing is shrouded in mystery. Some accounts state that she was born in 1901, but this has not been verified. Zora was the daughter of a Baptist preacher, but she received very little formal education until she reached the age of 26. Zora studied voodoo practices in Haiti and Jamaica and this most likely influenced her interest in folklore. She became an author, folklorist and anthropologist.
In 1925 at the peak of the Harlem Renaissance, Zora traveled to New York where she published stories in literary magazines. This brought her to the attention of such literary giants as Langston Hughes and Wallace Thurman. They produced a magazine together called Fire, which featured a lot of young, black Renaissance writers.
Despite her association with these prominent African American writers, Zora provoked the ire of African Americans by her refusal to address racism in her writings and in her public denouncement of desegregation in schools. She is quoted as saying that black children didn't have to attend white schools in order to learn. Later, when she campaigned in support of a GOP presidential candidate, the outcry against her increased.
Financial difficulties confronted Zora later in life and she went back to working as a domestic, a job she had done before becoming a writer. She died of a stroke in a welfare home in St. Lucie County, Florida. In 1975 there was a resurgence of Zora's work largely due to the efforts of new writers like Alice Walker, Toni Morrison and Maya Angelou. In 2001, Every Tongue Got To Confess, a collection of folktales from the Gulf States was published posthumously.
Despite all the controversy that surrounded Zora's personal and public life, she left behind a cultural legacy of which lovers of African American literature can be justifiably proud.