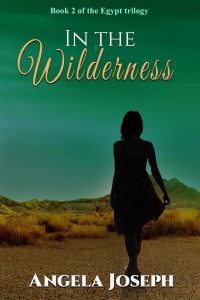 When last you met Marva Garcia, protagonist of the Egypt series, at the end of Coming Out of Egypt, she had just attended a concert with her sister June and her former teacher, Cicely Stewart. To Marva's – and Cicely's- amazement, David Bowen, the detective who had been investigating the murder of Marva's father, put in an unexpected appearance at the concert, played the trombone and announced his love for Cicely to thunderous applause from the audience.
Terrified though she was – the detective's re-appearance could mean jail for her – Marva was happy for Cicely, who had become like a mother to her and June. The novel ends on a hopeful note with Marva thinking that God would somehow bring her and June "out of Egypt."
The suspense builds in In The Wilderness.  Even though the girls are now living a more comfortable life, emotionally Marva is still tortured by guilt over killing her father and fear that she will one day be found out.
How do you think her life will turn out in this second book? Does the title give anything away? What would you like to see happen? What do you think of the cover?
Leave your comments below and when you subscribe to my newsletter, you will receive the first chapter of In The Wilderness soon to be on preorder.
Leave a Comment »
Comments
Leave a Reply