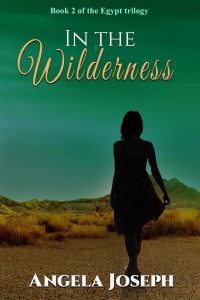 I'm happy to announce that In the Wilderness, Book 2 of the Egypt trilogy, is on tour this week, starting today Oct. 2 until Friday Oct. 6. This is a virtual book tour that will make stops at other book blogs in order to garner exposure and reviews. This is a great opportunity for those of you who have not yet purchased the book to learn more about it and hear what others think. At the end of the tour, I will be giving away a signed copy of the first book, Coming Out of Egypt.
Don't miss out.
You can follow the tour at the sites listed below where you'll have a chance to participate in the giveaway.
On A Reading Bender – Oct. 2
The Indie Express   – Oct. 3
Texas Book Nook   – Oct. 4
Momma and Her Stories  – Oct 5
All Things Bookaholic – Oct 6
RABT Book Tours Reviews – wrap up
For those of you who still don't know what In the Wilderness is all about, here's a short blurb to whet your appetite:
In The Wilderness – Book 2
Tortured by guilt over killing her father, a crime for which she was never punished, Marva Garcia longs to confide in someone.  But who? Cicely, her former teacher-turned-surrogate – mother, is soon to marry the detective who suspects Marva of murdering her father, and she is too ashamed to confide in her friend Jason who has a romantic interest in her. The only person who knows what she did is her younger sister June whom she was trying to protect when the crime occurred. But June insists they keep quiet about it to avoid Marva being thrown into prison.
Certain that the police will one day arrest her, Marva sees suicide as her only option. But before she can carry out her carefully-laid plans, something terrible happens – something that uncovers her closely guarded secret and leaves her groping in the wilderness. Will Marva now be punished for her crime, or will she receive forgiveness and understanding?
Sign up for my blog on the form below and you will receive updates on my books, giveaways and other author events.
Leave a Comment »
Comments
Leave a Reply