It's been a long time coming, but here it is at last – the brand new cover for In the Promised Land, the third and final book in the Egypt trilogy. What do you think?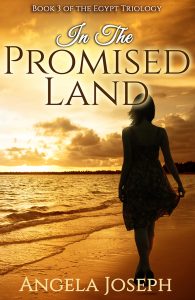 While this cover features the same silhouette image as the others, she is now enveloped in a golden glow, which, I think, gives an insight into what this story is about. The sun has risen on the lives of these two young girls who had experienced so much turbulence in their journey out of Egypt.
Here's the tagline and blurb to whet your appetite even more.
Finding love in the midst of tragedy
As a young nun at the Corpus Christi Home for Girls, Marva Garcia has always leaned on the Everlasting Arms for wisdom and strength to meet the day-to-day challenges of mentoring delinquent girls. But then the challenges multiply, and Marva sees her orderly world crumbling around her. As she tries to make sense of all this, Marva is increasingly drawn to another pair of arms that had been there for her all along. Can she love a man and still love God?
Fans of the perennial favorite The Sound of Music will love this Caribbean story of a nun's struggle to balance her passion for God with her growing love for her childhood sweetheart.
There you have it. In the Promised Land will soon be on preorder. More details to follow.
Meanwhile, if you still haven't got your copy of the first book Coming Out of Egypt or it's sequel In the Wilderness, just click on the links and they will take you straight to them. You want to be sure and read them before reading In the Promised Land.
Still don't know what the series is about? It's the story of two sisters struggling to put their lives back together after Marva, the older, kills their father as a result of sexual abuse. Their former teacher, Cicely, steps in, points the girls to Christ and helps them turn their lives around. But she has her own ghosts to deal with as she tries to hide the fact from her fiancé that she too was sexually abused.
These books have received four and five-star ratings and I am sure you will enjoy them tremendously.
________________________________________________________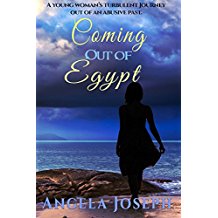 Are you still thinking of a Mother's Day gift for your mother or that special woman in your life? Why not give her a gift that never fades, goes out of style or loses his sparkle? Give her the gift of a book that is guaranteed to bless her heart and remind her of the power of God's love. Give her a printed copy of Coming Out of Egypt, complete with swag – tote bag, bookmark, bandana and pen. She will love you even more.
Leave a Comment »
Comments
Leave a Reply