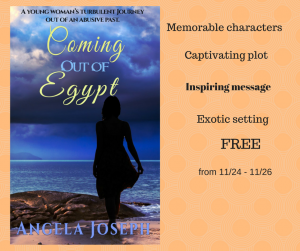 Another year is almost over, and as I look back on the past months, I am tempted to reflect on all the awful things that took place – hurricanes, earthquakes, terrorism, mass murders – and according to the news media, everything was "the worst." In light of all that, should we be thankful? I am still thankful – for God, my family, friends and associates and for the opportunity to reach thousands of people in cyberspace.
So, let us enjoy Thanksgiving, enjoy our families and friends and, yes, our food. Let us share whatever we can with those who are not as fortunate as we are, for it is in giving we receive.
To show you how much I care, I'm making Coming Out of Egypt, the first book in the Egypt trilogy, FREE from Black Friday until Sunday Nov. 26th.
Tweet: Get Coming Out of Egypt FREE #BlackFriday to 11/26 #womensfiction https://ctt.ec/swKZe+ B01FNJ5EIU
So, spread the word to all your friends and if you have not done so yet, sign up for my blog where you can get more updates and giveaways.
Blurb for Coming Out of Egypt
Set in the lovely island of Trinidad, Coming Out of Egypt tells the story of Marva Garcia, seventeen, and her sister June, thirteen, who were both sexually abused by their father. Following the death of their mother a year previously, Marva assumes the role of mother to June. Unable to tolerate their father's abuse any longer, Marva accidentally kills him one night while trying to protect June from him.
This sends the girls' lives into a further downward spiral as Marva tries desperately to elude the police, control June's teenage hormonal escapades and hold down a job in a man's domain. Will Marva be punished for her crime?
If you enjoy this book, why not pick up the sequel In the Wilderness so you don't have to wait to see what happens next?
Happy Thanksgiving!
Leave a Comment »
Comments
Leave a Reply