The title says it all. If you love farms, food and, well, love, you will enjoy this movie. If you love watching cooking competitions, you will enjoy this movie. If you are a chef or in the food business, you will enjoy this movie.
At the risk of repeating myself one more time, let me give you a brief synopsis of Farm To Fork To Love. Alice is a young sous chef at a very popular restaurant in New York, when she is invited to take part in judging a cooking competition in Kansas. Her boyfriend, Bret, who is very domineering and also happens to be her boss, is not happy about the invite, but he grudgingly allows her to go.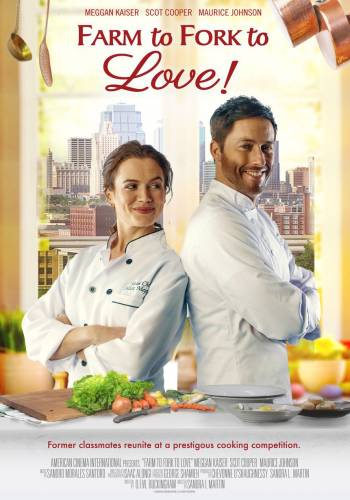 Alice arrives in Kansas only to find that Christian, her former boyfriend from college, is also one of the judges. When the two meet, we can tell they still have feelings for each other. While they are busy catching up on old times and what might have been, Bret pays Alice a visit. The meeting is awkward, especially as Alice has not told Christian about Bret. He wants Alice to be the head chef at the new restaurant he is opening, but her cooking must be according to his dictates, and Christian wants to know if Alice has ever considered leaving New York.
Alice is not the only one who has to make a decision. Christian also has to decide if he would accept the position as the new head of the Phillips Group his aunt Daniela has offered him as she is planning to step down. However, Daniela is also wavering in her decision because although she loves her job, she wants to find love before it is too late. And it seems she has found it in Raphael, winner of the cooking competition.
Farm To Fork To Love is one of those rare movies that can aptly be described as clean and wholesome. There is little or no kissing and no bad language. Meggan Kaiser plays the part of Alice, the sweet and charming girl-next-door type, while Maurice Johnson (Bret) is exactly the domineering type we often see in television cooking shows. Patty Lambert (Daniela), while fully conscious of her status as hotel magnate, is still humble enough to recognize what her life is lacking and to go after it.
If you are looking for clean, wholesome, and a bit slow, Farm To Fork To Love is your cup of tea; if however, you want something with a little more punch, I'd say look elsewhere. Dove has approved it for all ages.
You can watch it on Netflix, Pureflix if you have a subscription or on Tubi for free! https://bit.ly/farmtoforktolovewatchnow You can also watch the film on Amazon if you have Prime Video: https://www.amazon.com/Farm-Fork-Love-Maurice-Johnson/dp/B09HLHDFT6
https://m.imdb.com/title/tt14219458/mediaviewer/rm2215627009/
Leave a Comment »
Comments
Leave a Reply