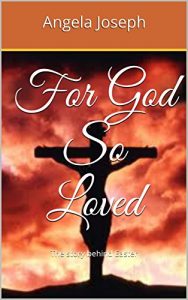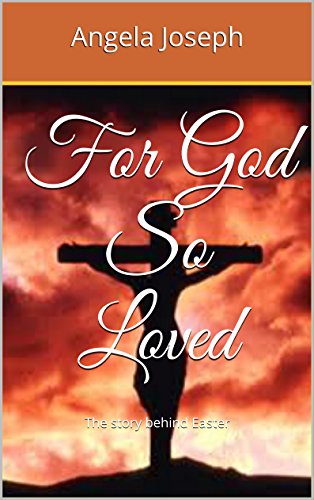 For those of you who may not know it, Easter is a very important date in the Christian calendar – maybe the most important date, even more important Christmas – although we seem to make more of a deal over Christmas. However, while Christmas is the celebration of the birth of Christ – the time He came to this earth – Easter commemorates His resurrection from the dead and the fulfillment of the reason for His coming. As a Christian, I enjoy celebrating both.
A few years ago, I entered a Writer's Digest competition and won an honorable mention in the inspirational category for my short story For God So Loved. I was really blown away for two reasons 1) Writer's Digest is a secular platform and 2) my entry was a religious story, but it did win a prize. So, with Easter right around the corner I would like to share this story with you free of cost.
For God So Loved is my creative interpretation of what the atmosphere must have been like that first Good Friday – when Jesus was crucified – and that first Easter Sunday – when He rose from the dead.
Here's a short excerpt:
In the courts of heaven, the atmosphere is tense.
             The angel Gabriel and his musicians have laid aside their instruments, the elders that praise God around the throne are now seated, heads bowed on their knees.  Occasionally, a moan or a sigh escapes from some corner of the vast room. On the throne itself God sits in majestic silence, nothing in His demeanor betraying the depth of His thoughts. On the far side of the room, Moses and Elijah appear in deep conversation, seemingly oblivious to the uncomfortable silence.
Suddenly, from outside the walls sounds a great eruption. The elders jump to their feet and all eyes turn toward the entrance. The angels draw their swords and stand ready. Only God remains unmoved. In a blaze of smoke, a creature dressed in shining black garments, followed by smaller imps also clad in black, makes his way into the room. With a movement of His hand, God signals to the elders to clear the way for Satan to approach the throne.
Satan approaches and God looks down at him. Immediately, he falls flat on his back. His imps rush to his side and help him up. When he is once more vertical, God thunders from the throne, "What are you up to, Satan?"
"I am here to conclude our negotiations."
God fixes him with a stare which he cannot return. "Do you want more riches?"
"I already have all the kingdoms of the world. I do not need any more riches."
"Do you want more wisdom?"
"I have all the wisdom I need."
"Do you want more power?"
"I have all the power I need."
"Then what do you want?"
An evil grin sneaks across his face. "Your only begotten Son."
A loud gasp emanates from every corner of the hall, followed by shouts and cries. The angels, swords thrusting forward, spring toward the intruder. God raises his hand and everyone falls backward. There is silence once more and God speaks, "You shall have Him."
---

For God So Loved is part of a My Book Cave giveaway taking place right now until Easter. To get your free copy, all you have to do is click here  and it will take you to the page where you'll see it and other Christian-themed books, all free of cost. But that's not all. When you enter this giveaway, you stand a chance to win a $25 gift card. So take advantage of this wonderful opportunity and tell your friends about it as well. And remember, if you haven't signed up for my newsletter, you can do so now to learn about other exciting offers.
Leave a Comment »
Comments
Leave a Reply