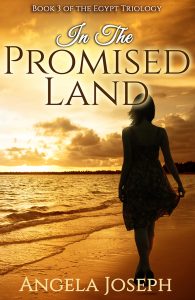 Happy Memorial Day to all you wonderful folks out there. The day is almost over, but I hope you had a relaxing day with friends and family and are ready to resume your normal routine tomorrow. Maybe you also got in some reading, or plan to do that before bed, which is always a blessing.
As for me, I spent the day catching up on emails and editing my new book In the Promised Land to upload to Amazon. This is the third book in the Egypt trilogy and I'm super excited to be finally putting it out there into the world. If you've already read the first two books Coming Out of Egypt and In the Wilderness, then you should be anxiously awaiting the grand finale.
Some time ago, I revealed the cover and blurb. Here they are again to whet your appetite. As a young nun at the Corpus Christi Home for Girls, Marva Garcia has always leaned on the Everlasting Arms for wisdom and strength to meet the day-to-day challenges of mentoring delinquent girls. But then the challenges multiply, and Marva sees her orderly world crumbling around her. As she tries to make sense of all this, Marva is increasingly drawn to another pair of arms that had been there for her all along. Can she love a man and still love God?
Fans of the perennial favorite The Sound of Music will love this Caribbean story of a nun's struggle to balance her passion for God with her growing love for her childhood sweetheart.
If you enjoy reading this blog, please sign up to receive updates and special offers.
Leave a Comment »
Comments
Leave a Reply