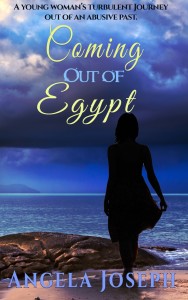 When I first started shopping around for an agent for Coming Out Of Egypt, I came up with rejection after rejection, one of the reasons the book took so long to get to the publishing stage. Since most of the people I queried did not give a reason for their rejection, I thought the reason was the subject I was writing about. I had polished and had the story critiqued by some of the best authors one can find anywhere, until I thought it dazzled like a new coin in the sun. I did receive a few requests for the full manuscript, but that was as far as it went.
One agent at a conference said that women who had been sexually abused would not want to read about sexual abuse. That may be true for some, but as I scan through social media and blogs with the limited time that I have, I am finding books on the subject. These books focus on encouraging those who have gone through this horrible experience rather than on the abuse itself. And this is my reason for writing the Egypt series. Coming Out Of Egypt is the first book in the series. The other two are already written and show the progression of two sisters from scared, desperate, beaten-down individuals who make bad choices to beautiful, well-rounded, productive members of society.
Of course, there are other reasons for writing the book. I want you to be entertained and remember the characters, places and events long after you reach The End. The plot is multi-dimensional. It explores themes such as romance, forgiveness, suspense and family relations, all of which I will deal with in future posts. The book is now on preorder at Smashwords. You can order it here and please tell your friends about it.
BTW, you may notice that I have a new cover. This is the final one.
———————–
With Mother's Day right around the corner you may be looking for something to give that special woman in your life. As you know, if Amazon doesn't have it, you won't find it anywhere else, so click on the link below and make your selections.

Leave a Comment »
Comments
One Response to "Coming Out Of Egypt"
Ebook Wishlist Exchange–May 2016 | Side Quest Publications Says:
May 18th, 2016 at 11:08 am

[…] Coming Out Of Egypt (angelasfreelancewriting.com) […]
Leave a Reply