I am pleased to bring you this exciting cover reveal for  Elodie Nowodazkij's new novel See Me, See Me Not.
Book Details
See Me, See Me Not
by Elodie Nowodazkij
(Gavert City #2)
Publication date: August 29th 2017
Genres: Romance, Suspense, Young Adult
Synopsis:
The second standalone novel in the YA romantic suspense "Gavert City" series.
SEE ME,
Try as they might…
SEE ME NOT,
Tessa and Luke can't escape their pasts.
Six years ago, Tessa Gardner's sister, Mellie, disappeared. Despite lingering guilt and the never ending desire to find her, seventeen-year-old Tessa works hard to keep it together. Her grades are decent, and thanks to her part-time job, she can help pay her family's bills. But when her childhood crush, seventeen-year-old Luke Simon, rolls back into her small Texan town, he threatens to topple the delicate balance she created. She's drawn to him—and the way he makes her smile. He's the only one who seems to understand her, but he's got a dark past of his own. Even the fake psychics who swear Mellie is still alive tell Tessa that Luke will cause her pain.
Luke Simon knows a thing or two about guilt. He moved in with his uncle to escape his past, but memories threaten to eat him alive. He does what he can to keep his anger in check—quieting his thoughts by making out with one meaningless girl after the next. Tessa, and her long legs and her hard-earned smiles and her kindness is the only girl who's ever mattered. She's the one untainted memory he has from his childhood and he could talk to her for hours. He could do anything with her for hours. But the truth about his past might send her running. Or worse.
While Tessa and Luke try their hardest to live in the present, their pasts lurk in the shadows, more intertwined than they could imagine. When the bodies of the fake psychics are found, Tessa realizes that the truth about what happened to Mellie is right around the corner—and it may be too late to save her sister—and herself.
Want to read bonus scenes? Sign up for her newsletter (http://bit.ly/1Ddrft5) to get them!
You can also join her Facebook fan group (http://on.fb.me/1J2SYl1) for early excerpts of her upcoming books, giveaways or to just hang out with her.
Elodie Nowodazkij was raised in a tiny village in France, where she could always be found a book in hand. At nineteen, she moved to the US, where she learned she'd never lose her French accent. Now she lives in Maryland with her husband, their dog and their cat.
She's also a serial smiley user.
Giveaway: the author is hosting a giveaway to celebrate the reveal. Check it out here: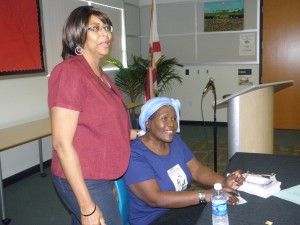 If you live in the Fort Lauderdale/Miami area you would know that we have been having tons of rain since the weekend and it has been pouring all day. And so my book signing was a no go.
I have to thank my good friend, Ella, who came and brought a friend with her, so the afternoon was not a complete waste. They did buy books, listened attentively to my presentation – Power Point and all – and asked questions. So, I had some good practice and look forward to the next time.
If you have been following my posts, you know I always encourage you to never give up, so why should I? Keep following this page for information on where my next appearance will be and don't forget to sign up to this blog for updates.
If you would like to get your copy of Coming Out of Egypt just click 
here
for paperback and 
here
for the ebook.

Summer is here, and like most people you may be planning to spend some lazy days soaking up some sun and surf. I'm sure you have some essentials you take with you to the beach: towel, umbrella, sunscreen, water… How about a book to help you pass those balmy hours? And if you decide to take one, how about one that's set in a lovely tropical island with scenes that mimic the beach you are lying on? My Christian women's fiction novel Coming Out of Egypt has all that and more. Here is part of  a beach scene from the book:
The ocean shimmered under the morning sun. There wasn't a soul in sight. Reason told her she should go back, but this was too much to turn away from. Here she could find the peace and quiet she needed to communicate with God in a way she hadn't done in a long time. She ambled along, the wind whipping her hair, the salty air tingling her nostrils and smarting her eyes, the sand beneath her sneakers, gritty, but yielding. She took off her sneakers and socks and drifted near the water, allowing the frothy waves to break over her feet, enjoying the feel of the sand melting under them.

Can you picture the scene? Do you wish you were there? Well, you can give free rein to your imagination with a copy of
Coming Out of Egypt
as part of your summer reading. And if you live in this area, why not come out to my book signing event on Sat. Jun 3rd at the African-American Research Library & Cultural Center, 2650 Sistrunk Blvd,, Fort Lauderdale, FL 33311. You can pick up a signed copy and win a giveaway or two. So be there from 1. 00 p.m to meet with other interested readers and hear me read and talk about my book.  Can't make it to the book signing? Then pick up your copy  here on kindle:     
https://www.amazon.com/dp/B01FNJ5EIU 
or here in print:  http://amzn.to/2qCJsQA
I am pleased to present this review of Pintip Dunn's new YA fiction Girl on the Verge. This post is part of a blog tour that also includes an exciting giveaway ending June 8th.  You may follow the tour and participate at other stops by clicking on this link: (http://xpressobooktours.com/2017/03/14/tour-sign-up-girl-on-the-verge-by-pintip-dunn/)
Please read my review below.
Girl on the Verge
by Pintip Dunn
Published by: Kensington
Publication date: June 27th 2017
Genres: Thriller, Young Adult
Synopsis:
From the author of The Darkest Lie comes a compelling, provocative story for fans of I Was Here and Vanishing Girls, about a high school senior straddling two worlds, unsure how she fits in either—and the journey of self-discovery that leads her to surprising truths.
In her small Kansas town, at her predominantly white school, Kanchana doesn't look like anyone else. But at home, her Thai grandmother chides her for being too westernized. Only through the clothing Kan designs in secret can she find a way to fuse both cultures into something distinctly her own.
When her mother agrees to provide a home for a teenage girl named Shelly, Kan sees a chance to prove herself useful. Making Shelly feel comfortable is easy at first—her new friend is eager to please, embraces the family's Thai traditions, and clearly looks up to Kan. Perhaps too much. Shelly seems to want everything Kanchana has, even the blond, blue-eyed boy she has a crush on. As Kan's growing discomfort compels her to investigate Shelly's past, she's shocked to find how much it intersects with her own—and just how far Shelly will go to belong…
Purchase:
To participate in the giveaway, click here:
https://www.rafflecopter.com/rafl/display/d04251231814/
AUTHOR BIO:
Pintip Dunn is a New York Times bestselling author of YA fiction. She graduated from Harvard University, magna cum laude, with an A.B. in English Literature and Language. She received her J.D. at Yale Law School, where she was an editor of the YALE LAW JOURNAL.
Pintip is represented by literary agent Beth Miller of Writers House. Her debut novel, FORGET TOMORROW, won the RWA RITA® for Best First Book. Her other novels include THE DARKEST LIE, REMEMBER YESTERDAY, and the novella BEFORE TOMORROW.
She lives with her husband and children in Maryland. You can learn more about Pintip and her books at www.pintipdunn.com
My Review
4 stars
When a naive young girl meets a cunning, seasoned criminal, someone is bound to get hurt. In this case it is the innocent Thai-American girl, Kan who becomes the target of the diabolical antagonist, Shelly.
Kan's desire to belong, her fragile relationship with her mother and her love for her grandmother drew me in from the beginning and made me want her story to have a happy ending. Girl On the Verge is a fast-paced, captivating novel perfectly suited to the YA audience. The attraction between Kan and Ethan, their first kiss and the first time they spent swinging on the swings like children are all things young adults can relate to. As well as the low self-esteem that both Kan and Shelly suffer from.
Pintip Dunn does a great job of getting into the heads of Kan and Shelly and describing their emotions in a way that help us get to know them intimately. The story focuses on things that are important to young readers – first love, fashion, friendship, sex and relationship with one's family. Pintip sketches all of these elements in a believable and skillful manner, packed with action and suspense.
The book certainly held my attention, and even though I thought the ending was a bit drawn out, I think Pintip did a great job tying up all the loose ends.
My rating
I gave this book four stars, meaning that I enjoyed it, but a few little things kept me from giving it five stars.
Typos – I saw a few, including this one: But is she capable of attempted murderer?
POV slips, repetitions and moving body parts – my eyebrows climb my forehead – that weaken the writing.
Pacing – I like that the story is fast paced, but the actions take place too rapidly with no break in between. That's just my opinion.
Some of Shelly's actions in killing Ash and attempting to kill the others seemed a bit unrealistic to me.
Overall, I enjoyed the story and will recommend it to YA readers.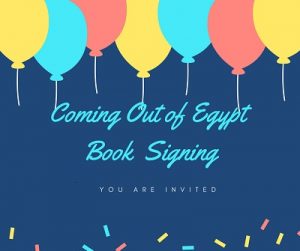 You are invited to attend my book signing event "Coming Out of Egypt" – Book 1 of the Egypt series – on Sat. Jun 3rd at the African-American Research Library and Cultural Center at 2650 W Sistrunk Blvd, Fort Lauderdale, FL 33311. Some lucky person will come away with a Free autographed copy of Coming Out of Egypt.
You can still get your ebook version here, or if you prefer to get your print version before the event, you can get it here.
See you there.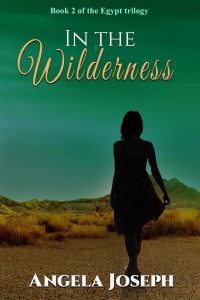 When last you met Marva Garcia, protagonist of the Egypt series, at the end of Coming Out of Egypt, she had just attended a concert with her sister June and her former teacher, Cicely Stewart. To Marva's – and Cicely's- amazement, David Bowen, the detective who had been investigating the murder of Marva's father, put in an unexpected appearance at the concert, played the trombone and announced his love for Cicely to thunderous applause from the audience.
Terrified though she was – the detective's re-appearance could mean jail for her – Marva was happy for Cicely, who had become like a mother to her and June. The novel ends on a hopeful note with Marva thinking that God would somehow bring her and June "out of Egypt."
The suspense builds in In The Wilderness.  Even though the girls are now living a more comfortable life, emotionally Marva is still tortured by guilt over killing her father and fear that she will one day be found out.
How do you think her life will turn out in this second book? Does the title give anything away? What would you like to see happen? What do you think of the cover?
Leave your comments below and when you subscribe to my newsletter, you will receive the first chapter of In The Wilderness soon to be on preorder.

I am pleased to introduce you to How We Fall, an exciting new Contemporary Romance by Melissa Toppen. Read on for more details then enter the giveaway for your chance to win a copy of this compelling new book.

_________
Book & Author Details:
How We Fall
by Melissa Toppen
Publication date: April 21st 2017
Genres: Adult, Contemporary, Romance
Synopsis:
It's not always about how we fall- it's about where we end up once we land.
I remember the very first time I laid eyes on Cole Lincoln. It still feels like yesterday when he stumbled into my life with his messy brown hair and dark eyes. Even though I was only ten years old at the time, I knew right then and there that he was going to change everything.
From that point on Cole and I were always together—inseparable—and I naively believed we'd be best friends forever. But forever didn't last nearly as long as I expected.
We grew up and grew apart, life driving the distance between us, but my love for Cole never faltered. Even long after he moved away, leaving me and our little town behind, I still carried a piece of him with me every single day. Because Cole wasn't just my childhood best friend- the boy who knew me better than anyone else in the whole world. He was also my first love- a part of my very core.
When a tragic death brings us face to face again after six years, every single memory comes rushing to the surface. Only this is not the boy I fell in love with all those years ago. The man before me is hardened, intimidating, and so damn sexy I practically melt when those dark eyes meet mine for the first time in six years.
And like the first time he walked into my life, I know with complete certainty that everything is about to change.
How We Fall is a STANDALONE Contemporary Romance.
Goodreads: https://www.goodreads.com/book/show/34449003-how-we-fall?ac=1&from_search=true
Purchase:
Amazon: https://www.amazon.com/How-We-Fall-Melissa-Toppen-ebook/dp/B06XJJ8LHD/
B&N: http://www.barnesandnoble.com/w/how-we-fall-melissa-toppen/1125960831?ean=2940154355916
iBooks: https://itunes.apple.com/us/book/id1214832179
Kobo: https://www.kobo.com/ca/en/ebook/how-we-fall-3
AUTHOR BIO:
Melissa Toppen is a Reader's Choice Award Winning and Bestselling Romance Author of New Adult, Contemporary, Erotic and Romantic Suspense. She is a lover of books and enjoys nothing more than losing herself in a good novel. She has a soft spot for Romance and focuses her writing in that direction; writing what she loves to read.
Melissa was born and raised in a small town in Ohio and now resides in Cincinnati with her husband and two children, where she writes full time.
In addition to spending time with family and friends, Melissa loves going to concerts and is obsessed with the T.V. shows Game of Thrones, The Walking Dead, Once Upon a Time and Outlander.
Author links:
http://www.mtoppen.com/
Tweets by MToppenAuthor
https://www.facebook.com/MTOPPENAUTHOR/
https://www.goodreads.com/author/show/7179337.Melissa_Toppen
Today's blog post is courtesy Xpresso Book Tours and features an exciting New Adult book by Tani Hanes. Tani will be doing a blitz-wide giveaway of her books from April 16th to April 20th, and you are invited to join. Read on and enjoy.
Before the Tempest
by Tani Hanes
(UK Crush, #4)
Publication date: March 21st 2017
Genres: Contemporary, New Adult, Romance
Synopsis:
Aileen Foster, poor, orphaned, musically gifted, never imagined her life could change so much, so fast, but getting a job as interpreter for boyband UK Crush pitched her headfirst into tumult and a glamorous life she never thought she'd have. Now, engaged to band member Theo Shelley, and having survived her audition to Hamilton Conservatory in Manhattan, she's off to the Bahamas with the boys while they write their new album. Life has never been easy for her, but she's trying.
GIVEAWAY
Blitz-wide giveaway (INTL)
Paperbacks of UK Crush #1-4
10x ebook copies of UK Crush #1-4
Link: http://www.rafflecopter.com/rafl/display/d04251231731/
_________
Book & Author Details:
Goodreads: https://www.goodreads.com/book/show/34664760-before-the-tempest?ac=1&from_search=true
Pre-order:
Amazon: https://www.amazon.com/gp/product/B06XS7GK96

AUTHOR BIO:
Tani Hanes was born in Yokosuka, Japan. She spent the first few years of her life traveling back and forth between Japan and the US, making the permanent move to the Central Valley of California when she was five. She visited family in Japan on a regular basis, and attended college in Tokyo for one year at ICU before getting her degree in Language Studies from UC Santa Cruz. She has two children, and was a substitute teacher for fifteen years. Hanes currently resides in New York City with her husband and cats, Moss and Lily.
Author links:
Amazon: https://www.amazon.com/Tani-Hanes/e/B01M4PYCA6/ref=sr_ntt_srch_lnk_1?qid=1491404380&sr=8-1
Goodreads: https://www.goodreads.com/author/show/16028512.Tani_Hanes
Pinterest: https://www.pinterest.com/tanihanes/
Twitter: https://twitter.com/TaniHanes
Facebook: https://www.facebook.com/tanihanesauthor/
Website: http://tanihanes.com
Gallowglass
Jennifer Allis Provost
Publication date: June 6th 2017
Genres: New Adult, Urban Fantasy
Today I'm pleased to bring you this post on Jennifer Allis Provost's exciting New Adult fiction. If you enjoy reading about fairies and elves,then this book is for you. Read on and order the book.

Karina didn't set out to free the Seelie Queen's gallowglass. Now she'll do anything to keep him.

After Karina and her brother, Chris's, lives fall apart in separate yet equally spectacular ways, they leave New York behind and head to the UK. Karina buries herself in research for her doctoral thesis, all the while studiously not thinking about the man who broke her heart, while Chris—who'd been a best-selling author before his ex-fiancée sued him for plagiarism—drinks his way across the British Isles.

In Scotland, they visit the grave of Robert Kirk, a seventeenth- century minister who was kidnapped by fairies. No one is more shocked than Karina when a handsome man with a Scottish brogue appears, claiming to be the Robert Kirk of legend. What's more, he says he spent the last few hundred years as the Gallowglass, the Seelie Queen's personal assassin. When they're attacked by demons, Karina understands how dearly the queen wants him back.

As Karina and Robert grow closer, Chris's attempts to drown his sorrows lead him to a pub, and a woman called Sorcha. Chris is instantly smitten with her, so much so he spends days with Sorcha and lies to his sister about his whereabouts. When Chris comes home covered in fey kisses, Karina realizes that the Seelie Queen isn't just after Robert.

Can Karina outsmart the Seelie Queen, or is Robert doomed to forever be the Gallowglass?
Author Bio:

Jennifer Allis Provost writes books about faeries, orcs and elves. Zombies too. She grew up in the wilds of Western Massachusetts and had read every book in the local library by age twelve. (It was a small library). An early love of mythology and folklore led to her epic fantasy series, The Chronicles of Parthalan, and her day job as a cubicle monkey helped shape her urban fantasy, Copper Girl. When she's not writing about things that go bump in the night (and sometimes during the day) she's working on her MFA in Creative Nonfiction.
If you normally write anything more than a grocery list, you would know that certain rules of writing apply. You would make sure that your nouns and verbs agree, you start each sentence with a capital letter, end it with a period and use a comma to separate words in a list. If you have been writing for any length of time and consider yourself a writer, you may follow some more advanced rules,i.e., making sure your nouns and pronouns agree, enclosing your dialog in quotes, limiting your use of adjectives and adverbs and much more.
The English language, we will all agree, is not the easiest one to navigate. Even those of us who pride ourselves on being masters of the art sometimes have to reach for our Elements of Style, as I just did. But styles change. What was great for Shakespeare is taboo for us. And even though we try our best to follow the rules of writing, we may still butcher one or two.
This article by Ben Blatt in Publishers Weekly gave me a little bit of a surprise and put a grin on my face. Blatt searched a database of thousands of books to discover which contemporary scribes break these cherished rules of writing. You may have heard this one about exclamation points – no more than two or three per 100,000 words. This came from Elmore Leonard's 10 Rules of Writing. Well, according to Blatt, Leonard used 1,651 exclamation points in his over 40 novels – 16 times more than the amount he said we should use. However, in all fairness to Leonard, Blatt found that his use of the exclamation point decreased sharply after he issued that recommendation.
Another thing we writers get our knuckles rapped for is – you guessed it – cliches. Nothing brands you more of a novice than writing things like, "a fish out of water," "dressed to kill," etc. And yet, guess who gained the top two spots in Blatt's database? James Patterson. His Cross Fire crossed the threshold with 242 cliches per 100,000 words followed by Mary, Mary with 218.
So, does that mean we should break the rules of writing? Not unless you are a James Patterson or Danielle Steel. By the way, Ms. Steel starts most of her books with the weather, another taboo, but who cares? Her readers, yours truly included, love her. In fact, I also started my first novel Coming Out of Egypt with a description of the weather – not beautiful like of some Ms. Steel's, but "dark and stormy weather." I did that to set the stage for the turbulence to follow in the lives of the characters.
Whatever you do, do it to the best of your ability. Stick to the rules of writing. They are there to guide you, but don't use them slavishly. Cultivate your own voice, and one day, maybe your name will be in a database of famous writers.
If you enjoyed this post, sign up for my monthly newsletter where you can learn more about my books, writing news and get a chance to enter exciting giveaways.