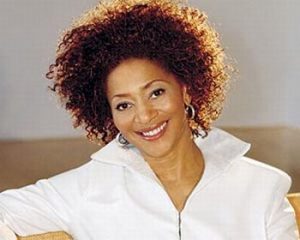 My Black History spotlight this week is on Terry McMillan, one of the most successful writers of our time. She is the  author of several magazine articles, and six bestselling books, two of which, Waiting to Exhale and How Stella Got Her Groove Back, became blockbuster movies.
Terry began her writing career in 1987 with the publication of her first novel, Mama, which started out as a short story. Terry followed the advice of members of the Harlem Writers' Guild who told her that Mama ought to be a novel. After six weeks, she'd expanded her short story into a novel of over 400 pages. Terry sent her collection of short stories to Houghton Mifflin, expecting to get some free editorial advice. It turned out that Houghton Mifflin was more interested in Mama, which she'd mentioned briefly in her letter. Terry sent them some pages from the book and they loved it.
Here's the opening line of Mama: "Mildred hid the ax beneath the mattress of the cot in the dining room." Who wouldn't want to continue reading after that?
For me, this is where the story of Terry's rise to fame really got my attention. The writer of the article in encyclopedia.com says that typically first novels don't get a lot of publicity. I can relate. But, the article continues, Terry was not about to let her hard work go to waste. When the publishers told her they couldn't do more for her, Terry struck out on her own. She wrote over 3000 letters to bookstores, universities and colleges, and by the end of the summer of 1987 she was scheduled for several readings. Instead of waiting on her publicist to arrange her publicity tour, Terry did it herself. By the time Waiting to Exhale was published in 1992, Terry McMillan had become a sensation. The movie grossed $66 million.
So, what lessons can we as writers learn from Terry McMillan?
1. Read. Terry discovered the beauty of reading from working in the library. Prior to that, she had not been exposed to books by black writers. In an interview, Terry says she felt embarrassed when she came across a book by James Baldwin with his picture on the cover. After reading the autobiography of Malcolm X, Terry  realized that black literature was nothing to be ashamed of.
2. Study. Terry attended Los Angeles City College, where she immersed herself in African American classics. She then went on to the University of California at Berkeley and pursued a Master's degree in Film at Columbia University. She also attended McDowell and Yaddo artist colonies.
3. Take advice. Had Terry not listened to the advice of the Harlem Writers Guild, she may not have published Mama, which launched her writing career.
4. Take charge. (This is my favorite) Don't sit back and wait on others to do everything for you. Had Terry waited on her publishers to handle all her marketing for her, Mama may have fallen flat and her career may have never got off the ground.
In reading about this great, contemporary African American author, I feel proud to be a writer even though I have not begun to scratch the surface of what she has done. Still, she has motivated me, and I daresay other writers, to strive to be the best we can be. For that, we owe her a debt of gratitude.
Please sign up below to join my mailing list.