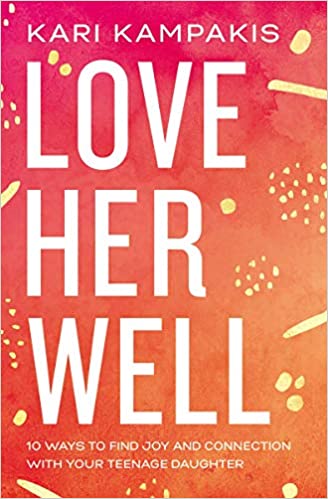 If you are the mother of a teenage girl, there may be times when you wring your hands and wish you had a magic wand to wave over your daughter and make all your parenting woes disappear. Sadly, that won't happen.
Kari Kampakis, mother of four girls, knows this and this is why she wrote Love Her Well, a manual chock full of realistic and optimistic advice for mothers of teenage girls. This is a book I wish I had when my daughter was a teenager, and which I intend to pass on to her so she can turn to it for help with her soon-to-be teenage daughter.
Every mother would love to have a good relationship with her daughter, but it's not always easy during the teenage years. In Love Her Well, Kari advises mothers, among other things, to
give their daughter space
tell her what you love about her
protect her privacy
own up to your flaws
make her a priority
If you are the mother of a teenage girl, or one who is soon to be a teenager, or you have a friend who is the mother of a teenager, you need to get your hands on this book. It will bless you and your daughter and she will thank you for many years to come.
You can win a free copy of Love Her Well when you enter this giveaway:
https://www.blessedfreebies.com/love-her-well.html