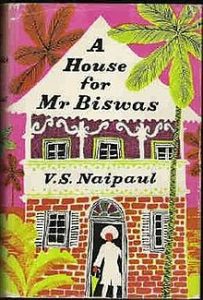 Recently, we saw the passing of three famous people that I know of – Aretha Franklin, Queen of Soul, Kofi Annan, former Secretary-General of the United Nations and V.S. Naipaul, novelist, Nobel Prize winner for Literature (2001) and my fellow Trinidadian. I seldom write two posts so close together, but when I heard of Mr. Naipaul's passing, I thought a tribute was fitting. Even more so when I saw that former president Barack Obama is reading his breakthrough, autobiographical novel A House for Mr. Biswas.
Of this novel President Obama said, "With the recent passing of V.S. Naipaul, I reread A House for Mr Biswas, the Nobel Prize winner's first great novel about growing up in Trinidad and the challenge of post-colonial identity."
No Trinidad student from my generation could have passed through high school without reading that book and Miguel Street. I even mentioned the latter in my first novel Coming Out of Egypt as one of the books that absorbed the interest of June, one of my main characters.
Naipaul, born of Indian ancestry, migrated from Trinidad to England in the 1950s and was henceforth referred to as a British author. Naipaul attributed his aspirations to become a writer to his father, a journalist, who, Naipaul said had a great reverence for writers and the writing life. Naipaul's younger brother Shiva was also a writer. A prolific author of fiction and non-fiction, Naipaul has been compared to such literary giants as Joseph Conrad (Heart of Darkness), and Charles Dickens.
What struck me about V S Naipaul's writing was his dry sense of humor and his detailed descriptions of objects that would otherwise be insignificant. In A House for Mr. Biswas, which Teju Cole (American writer, photographer and art critic) describes as lively, funny and malicious, here's how he describes a kitchen safe: They had acquired a kitchen safe of white wood and netting. This too had been awkward to varnish and had been painted. One leg was shorter than the others and had to be propped up; now they knew without thinking that they must never lean on the safe or handle it with violence.
Naipaul himself named this novel as the one closest to him and the one that contains his funniest writing. His writing was not only funny, but he had that ability to tell a story in a way that made characters, setting and the author's voice come alive in a way that, I think, few authors can. Vidia Naipaul inspired me, and I daresay many others, to become a writer.
I look forward to spending many pleasant hours rereading this epic masterpiece, when I do get it from the library. There are many holds before me, but I don't mind. It's worth the wait.