While on my walk this morning, I came across a couple staring at something on a tree branch. As I drew nearer, the woman pointed to the tree and said, "Isn't it amazing how God puts so much detail into everything?" I peered at the tree to see what she was talking about, and there was a huge spider caught in a big web. I agreed with her that God is a God of details. Then I saw she had her phone out. "Did you get him?" I asked. "I sure did," she replied. So I got out my phone and took two shots. See one of them here.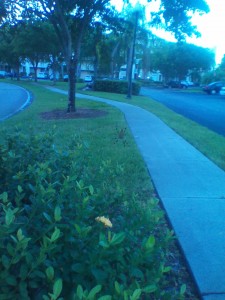 As I walked away, the word "details" kept popping into my mind. I immediately thought of my writing. As fiction writers, it can be very easy for us to focus on getting our plot just right; working out the conflicts, all the little twists and turns and surprises, while ignoring the details. But its these little details that make the story come alive and make the reader feel she is in the story, not looking in from the outside.  Let's look at the paragraph below from The Memoirs of Cleopatra by Margaret George:
Warmth. Wind. Dancing blue waters and the sound of waves. I see, hear, feel them all still. I even taste the sting of the salt on my lips, where the fine, misty spray coats them. And closer even than that, the lulling, drowsy smell of my mother's skin by my nose, where she holds me against her bosom …
Do you see, hear, feel and taste the details? That's the kind of sensory experience you want to give your readers. This is not the same as clutter, which adds nothing to the story. If it feels cumbersome, it must go. But if everything fits into place, like the markings on a spider's leg, then you are on to something. Like any craft, it takes practice, but eventually, you should get it just right.
———————————————————————————————–
I will be taking my book Women For All Seasons on a virtual book tour from October 7 – 18.  I will also be giving away a copy of the book and downloadable excerpts to readers who visit the blogs and leave a comment. I will post all the details as the time draws nearer. Meanwhile, if you wish to jump ahead you can purchase a copy on Amazon from the link on your right, or from Smashwords at https://www.smashwords.com/books/view/34069
Related articles