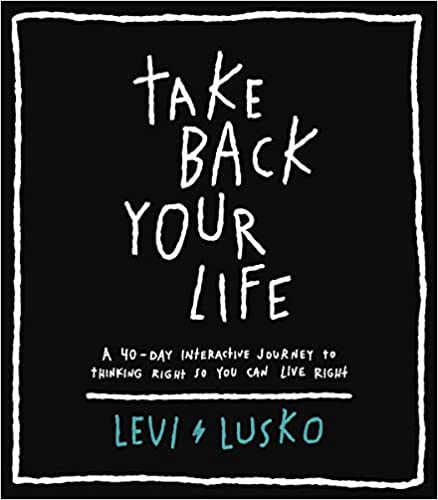 In the introduction to his book Take Back Your Life, Levi Lusko states, "Too many times to count, I've made the mistake of doing the right thing the wrong way." Can you relate? You put the kettle on the burner but do not turn it on. You begin to wash your hair only to realize you are using conditioner and not shampoo. I'm sure you can add some more.
Take Back Your Life is an insightful, interactive journey that helps you do the right thing the right way, or as Levi would say, get rid of the mosquitoes that are causing your illness and not the ants. He teaches us to act with faith, to recognize the greatness that lies within us and how to use our speech to create the kind of life God intended us to have.
One of the most touching chapters of the book is where Levi speaks of his daughter's death. He doesn't try to sugar coat his feelings. In his words, "It hurt like hell." In the midst of his pain and grief, Levi experienced God's presence giving him the peace, the hope, the strength he needed to help him make it through that dark night.
I hope you enjoyed this review of Take Back Your Life. This is a book that should be in the home of anyone who feels like life is slipping by and you might be going the wrong way. The Breathe, Think, Live sections at the end of every chapter will help you to get in touch with God and have Him speak to you in a brand new way. I highly recommend this book.

To purchase, please click this link:
 https://www.takebackbook.com/book
You can also enter the giveaway by clicking this link:
 https://www.blessedfreebies.com/take-back-your-life.html

The distributors of this book have developed a free resource for parents and kids: Take Back Your Life Guide for Kids. You can get it here:
 https://bit.ly/takebackdevo