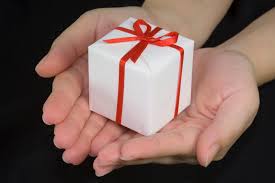 I hope you all had a wonderful Christmas. It is still the best time of year for me. I really knock myself out cleaning, cooking, baking, shopping and doing all the things that tradition dictates I should do. But this year things seemed a bit different. For some reason, the mercury didn't rise on my enthusiasm, but I did the best I could.
On Saturday, the day before Christmas Eve, I left our daughter's house where my husband and I had gone to spend Christmas and did something completely out of my league. I went shopping! In a store with wall-to-wall lines and shelves that reminded me of a pre-Hurricane Irma supermarket. But I stayed, hoping to get something to put under my daughter's Christmas tree. As it turned out, I left the store hours later with two items, a bad case of frustration and a back that screamed for mercy.
After picking up a few items, I waited in line for about an hour and a half, before getting up to the counter. I told the cashier I wanted to get something from the locked cabinet for my husband. I left my stuff on the counter and followed the young man to the cabinet. Big mistake! When we returned, all my stuff was gone! Yes, gone! I approached a female employee who was gathering up every stray item in sight with the speed of an engine and throwing it into an empty cart. My face must have betrayed my ire for she gave me a look as if to say, "Don't look at me."
Long story short, I retrieved one item I'd bought for my daughter and that's how I happened to leave the store with two items. I'd lost precious time and had very little to show for it. And so, my friends, maybe that's the reason I got sick on Christmas Day. I came down with a nasty case of the flu – runny nose, sneezing and headache. I am a little better as I write this, but I think I learned my lesson. At least for this year.
As I look back on my almost futile shopping trip, I ask myself why did I do it. Was it to please my loved ones or to please myself? They would not have loved me any less if I hadn't got them a Christmas gift. They are used to me giving them stuff, not only at Christmas but all through the year. Spending time with my loved ones and letting them know I love them is far more important than any amount of toys or baubles I could have bought.
To my fellow writers, and readers, let us reflect on what is really important -in our relationships as well as our work. Until next time, remember "A room without books is like a body without a soul."
― Marcus Tullius Cicero
If you enjoyed this post, please share with your friends and sign up for my mailing list where you can get updates on special offers and giveaways.