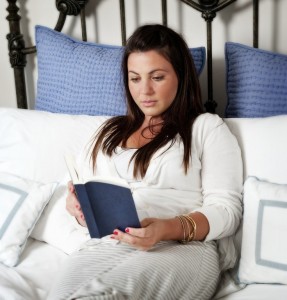 Now that the elections are over, we can go back to what we enjoy the most – reading. The days are shorter, the nights are longer and cooler, just right to snuggle up with a good book.
But before you reach for that book that's been gathering dust on your nightstand, stop and think for a moment. What do you look for in a good book? What makes you pick up the book in the first place? I would guess the first thing would be the cover, but you don't just want to admire the cover, you want to read what is between the covers.
So what tickles your fancy? Is it the plot, the characters, or the beautiful prose? For me, I would say all three, and if you can place all of that in a breathtaking setting, you have a fan for life.
Notice I didn't mention genre, even though there are certain types I will not read. Horror, vampire and detective novels with lots of blood and gore turn me off. As does erotica.
There was a time when I would have included sci-fi, fantasy and dystopian novels in the list. Then one of my friends decided to venture into worlds unknown and wrote her first sci-fi novel, Story In The Stars, and I was hooked. Then along came Hunger Games and I was drawn in, hook, line, and sinker.
So what was it about these two books in particular that kept me turning the pages?
1. Plot – this has to be compelling enough to keep me reading. While I love descriptive passages, they shouldn't be so long that they draw me out of the story. Also, even though it is fiction, the plot should be believable.
2. Characters – I must fall in love with them. I must understand their motive and be able to defend them even when they slip up, as real people sometimes do.
3. Prose – Think of it as the special ingredients you add to a meal to make it mouthwatering and appetizing. Every morsel you bite should stimulate your taste buds for more. So it is with your writing. If it is flat, with grammatical errors, typos, lacking flavor, then it will not appeal to your reader no matter how great the story line is.
What kinds of books do you like? What is on your bookshelf or in your kindle right now? If you are looking for a book with a compelling plot, lovable characters, and flavorful prose, pick up a copy of Coming Out of Egypt, now available for just .99c on kindle. Or you can download it for free on Kindle Unlimited.